John Brookfield's Grip Tips: Trick with Sticks
Until you have mastered the movement, eating with chopsticks is a matter of finesse—turn the chopsticks into boards, put one in each hand, substitute a barbell plate or a rock for the bite of food, and you have a superior lower arm exercise from the fertile mind of gripmaster John Brookfield.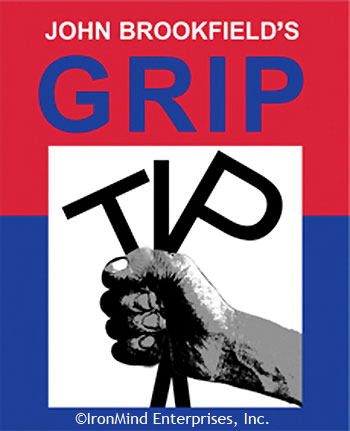 John Brookfield, the second man in the world to be certified on the No. 3 Captains of Crush® Gripper and the first man in the world certified on the IronMind® Red Nail™, is the undisputed master when it comes to creative grip strength training. Even though John Brookfield now focuses primarily on his Battling Ropes program, his monthly IronMind® column - John Brookfield's Grip Tips - is a steady source of new grip training ideas. Artwork courtesy of IronMind®.


John Brookfield's Grip Tips can be found in the Training Articles menu on the IronMind® homepage, or you can go directly to this month's article, Tricks with Sticks.