John Brookfield's Grip Tip: The Kettlebell Hold
John Brookfield literally wrote the book on grip training and since he's also been doing a lot of kettlebell training lately, it's not surprising that he's got something new that combines the two interests.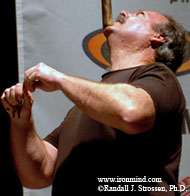 Snapping keys in half while balancing a sledgehammer, John Brookfield entertains the crowd at the 2005 IRONMAN Pro (Pasadena, California). IronMind® | Randall J. Strossen, Ph.D. photo.
Follow John's advice and while we can't guarantee that you will close a No. 3 Captains of Crush® Gripper, we will guarantee that you'll be a lot stronger than you were before.