John Brookfield: New Grip Tip
John Brookfield has the kind of credentials in the grip world that set him head and shoulders above the crowd: His performances on everything from closing grippers, to bending nails, to tearing cards put him in a unique class, but even if he just sat around, his books and articles on grip training ensure his position in the pantheon of grip greats.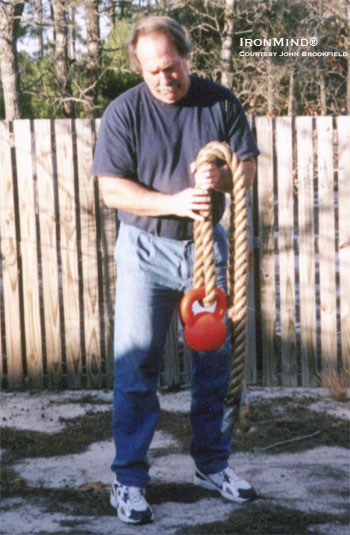 John Brookfield, a longtime leader in grip strength and innovator in grip training, shares another effective method for making your hands stronger and tougher, too. IronMind® | Photo courtesy of John Brookfield.

John Brookfield's Grip Tips provide a large pool of new ideas for everyone looking for the kind of grip strength that starts at where most end, and in typical John Brookfield style, they are just as user-friendly as they are novel and effective. And in the latest John Brookfield Grip Tip, he will show you "a way not only to strengthen the lower arms, but also to toughen the hands and to build some upper-body strength."

Sound perfect? Then follow the menu from the Training Articles button at the top of the IronMind® homepage or go directly to John Brookfield's Grip Tips.