Johannes Suomela: Finnish Gripster is Looking Good
Finland's Johannes Suomela is an accomplished powerlifter who is also a rising grip-strength star, having set the Finnish record on the Rolling Thunder and appears poised for a certification attempt on the Captains of Crush Gripper No. 3 and No. 3.5.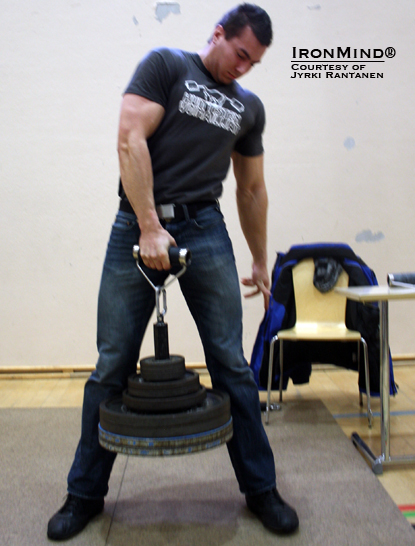 Finnish Rolling Thunder® record holder Johannes Suomela shrugs 108 kg, suggesting that he's ready to destroy his record and move into deeper waters in the grip world. A certification attempt on the Captains of Crush No. 3 and No. 3.5 gripper also seems to be imminent for Suomela. IronMind® | Photo courtesy of Jyrki Rantanen.


Jyrki Rantanen filed this report with IronMind.

Johannes Suomela Update
by Jyrki Rantanen

I was today visiting in a bench meeting called Jussin penkkarit in Loppi, Finland (a tribute to Juhani Äijö—famous finnish bench presser). The organizers asked me to hold a small Rolling Thunder testing there for the audience and my stand was well crowded in the half time with some well known visitors. Rolling Thunder Finnish national record holder Johannes Suomela stopped by for a talk and small training.

Johannes was taking part to the bench comp, but unfortunately missed 1-2 his opener 210 kg (all the attemps came up, but there was too much red this time). He said that he hadn´t been training so much grip lately, but enough to do some testing here to prove his ability to break records any time there´s an official happening. Johannes put all the weights in the stand (108 kg) for the Rolling Thunder, hauled it up and did some shrugs. Unfortunately this was not an official record since the stand was not a competition but I believe noone can doubt his ability.

Also after doing these efforts he took some grippers from his back and showed me some 3-4 reps with [Captains of Crush] #3 and a quite full single with [the Captains of Crush] #3.5.

Talking about his future plans, this 22-year old talent is planning to focus this year to powerlifting due it´s the last year as a junior - the goal if to break 800kg in with this new IPF 105 kg class (today Johannes weighted 99.7 kg and with total of 800 he will be a one the favorites in the Finnish junior nationals). Also after bench nationals he´s wants to try a certification for #3-3.5 grippers.

We also talked about strongman due Johannes has a good frame for it, too. Maybe in 2012 we will have a new star in the 105 class (Johannes is over 190 cm tall and has 300-kg raw deadlift, with huge grip strength and good pressing ability so I guess that road is open for him, too. Plus he may also have a coach, knows something about the sport in this class. :)

###


Want to comment on this article or just want to talk strength? Join the IronMind Forum!

You can also follow IronMind on Twitter.