Jimmy Paquet Wins SCL Curacao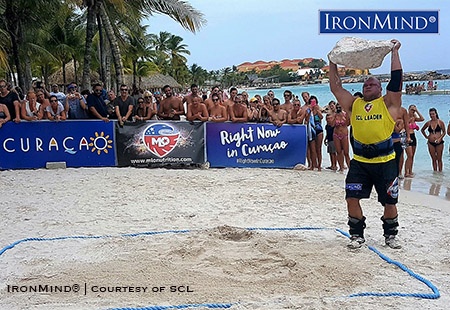 Not even a brush with Hurricane Matthew could derail MLO Strongman Champions League Curacao, where Jimmy Paquet won the contest and Krzysztof Radzikowksi threw a world record.
 
"One thing was stronger than the strongmen who entered Curacao last weekend for the MLO Strongman Champions League Curacao," Marcel Mostert reported to IronMind, "and that was Hurricane Matthew,

"Luckily, the hurricane only slammed the beautiful island a little bit, but we were reminded that nature is still stronger than humans, even as our strongman competitors later demonstrated their brute strength on the wonderful beaches of the island.
 
Adding to the excitement, J-F Caron's training partner, Jimmy Paquet (Canada) plucked the SCL Curacao title from Latvia's Dainis Zageris, winning by merely one point.

Holland's Alex Moonen was third and Krzysztof Radzikowski finished fourth, overall. 

"It was a great competition, exciting and really surprising as well," said Mostert. Especially after the first event, deadlift reps with 355 kg, where Krzysztof and Dainis did 8 and 11 reps, respectively, but Jimmy went over that easily with 14 reps! It was astonishing and exciting," said Mostert.

Adding to the excitement was a new world record in the 14-kg shot put (twice the weight of an Olympic shot put) by Krzysztof Radzikowski, who broke Vytautas Lalas's mark of 9.40 meters with a put of 10.07 meters.

"In the last events, truck pull and loading, it was a heavy fight for the title, and Jimmy finished one point ahead of Dainis. It was a truly great event and atmosphere with a lot of beautiful people to cheer on the athletes, so the MLO Strongman Champions League will certainly returning to the Caribbean next year," Mostert said.
 
Final Results: Top 10
| | | | |
| --- | --- | --- | --- |
| 1. | Jimmy Paquet | Canada | 55.5 |
| 2. | Dainis Zageris | Latvia | 54.5 |
| 3. | Alex Moonen | Holland | 51.0 |
| 4. | Krzysztof Radzidkowski | Poland | 43.0 |
| 5. | Enzo Tauro | Italy | 35.5 |
| 6. | Joachim Gustafsson | Sweden | 31.5 |
| 7. | Marcos Ferrari | Brazil | 28.0 |
| 8. | Dan Harrison | USA | 21.5 |
| 9. | Chamoun Sulaiman | Syria | 16.0 |
| 10. | Marionchelo Soleana | Curacao | 15.0 |

"SCL Portugal is next, this coming weekend, and it will be part of the Nuno Araujo PowerExpo—who always does a perfect job and is growing every year with his complete expo.

"Saturday and Sunday , 7 & 8 October the MLO Strongman Champions League will be present at 14:00 hours

"Keep following our league and let's see who else gains the last places for the SCL finals and 1 kilo of gold in Dubai soon," said Mostert.
 
                                       ###



You can also follow IronMind on Twitter and on Facebook.                        



Want to talk grip, strongman, weightlifting . . . everything strength? Visit the IronMind Forum.