Jim Schmitz on the Lifts: Training Logs
In the strength world, training logs might sound like a strongman implement, but they are the written record of what you've done in the gym - the history of your training and your guide to future gains and PRs.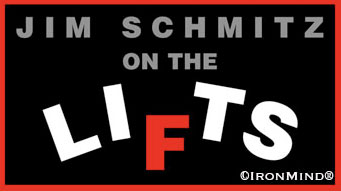 In his column this month, three-time Olympic weightlifting coach Jim Schmitz talks training logs for IronMind. Artwork courtesy of IronMind®.



Jim Schmitz tackles training logs in the latest article in his Jim Schmitz on the Lifts series. To access these articles, select the Training Articles button at the top of the IronMind home page and go down the menu to the Schmitz on the Lifts section. To read Jim's latest, click Training Logs.

###


Want to talk strength or discuss this article? Join the IronMind Forum!

You can also follow IronMind on Twitter.