Jim Schmitz, USA Weightlifting Certification, San Francisco
If you need a good excuse to spend a weekend in San Francisco, here it is: 3-time USA Olympic weightlifting coach Jim Schmitz is teaching the new and improved USA Weightlifting Level 1 certification course in San Francisco on February 13 - 14.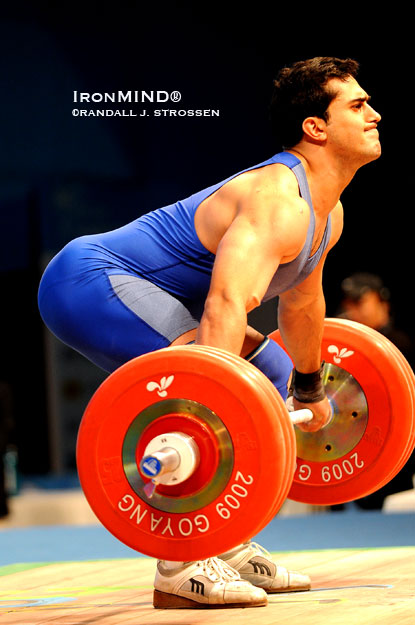 Ashgar Ebrahimi (Iran) launches 181 kg in the snatch while competing as a 94-kg lifter at the 2009 World Weightlifting Championships (Goyang, Korea). Even if you're not involved at the competitive level, the sport of weightlifting offers tremendous tools to other athletes as well as to people primarily interested in fitness. IronMind® | Randall J. Strossen photo.


Want to add even more cachet to the mix? The course is being held at the Lalanne CrossFit Gym, owned by Jack's grandnephew, Chris (in other words, Chris is the grandchild of Jack Lalanne's brother); and 1980 Olympian Butch Curry will be assisting Jim. Butch is also the president of the Pacific Weightlifting Association (PWA), so here is a tremendous opportunity to get plugged into the Olympic sport of weightlifting in one of its USA strongholds, Northern California.

Jim Schmitz told IronMind® that this new course replaces the Sports Performance course and the Club Coach course formerly offered by USA Weightlifting, so this new course introduces the sport, as well as teaches the basics of doing the snatch and the clean and jerk. This course is a solid introduction, whether your interest is in conditioning/sports performance, health/fitness, or weightlifting competition.

To register, please go to the USA Weightlifting course registration page, or for more details, please email Jim Schmitz or Chris Lalanne.