Jim Schmitz, The Sports Palace and RDLs
It was just another day in the back room of The Sports Palace - besides owner Jim "TOC" (Trainer of Champions) Schmitz, the group of worthies present included Yoshinobu Miyake, and the center of attention was guests Nicu Vlad and Dragomir Cioroslan.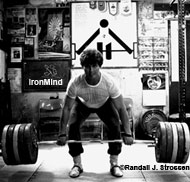 RDLs land in San Francisco: Nicu Vlad unveils a new lift at The Sports Palace in 1990, but if Jim Schmitz hadn't named them, you probably wouldn't be doing them now. IronMind® | Randall J. Strossen, Ph.D. photo.
Chances are close to 100% that if you've been lifting for strength in the last 15 years, you've heard of RDLs, and have probably done some. What you might not know is how they hit the map, so be sure to read the latest Schmitz on the Lifts for the inside story - follow the link or go to the IronMind® homepage and click on Training Articles.