Jim Schmitz . . . USAW Courses in California
Want to start an Olympic-style weightlifting club or maybe you're a strength coach or a personal trainer who needs to be able to teach the power clean - either way, USA Weightlifting (USAW) has your course, so grab your shoes and plan to be in Arcata, California April 26 - 27.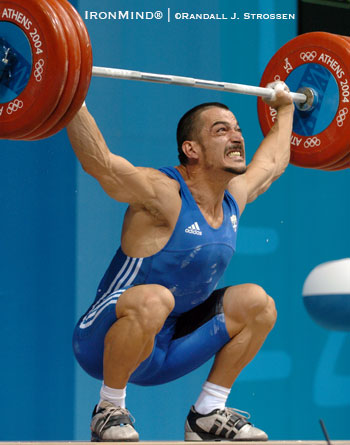 Think you're ready to produce the next Pyrros Dimas or maybe you just want to learn how to coach the power clean, so your athletes and clients can "leap tall buildings with a single bound," just like Superman? Sign up for the USAW courses and you will be on your way. IronMind® | Randall J. Strossen photo.

Jim Schmitz - three-time USA Olympic weightlifting team coach, owner of the Sports Palace, and past USAW president and IWF executive board member - and Butch Curry - current PWA president and 1980 Olympian - will be teaching the USAW Sports Performance course, as well as the USAW Club Coach course, so here's your chance to learn from experts.

"Both are excellent," Jim Schmitz told IronMind®. "Take the Club Coach course if you want to start a weightlifting club . . . take the Sports Performance course if you are a strength coach or a personal trainer." Weightlifting is an Olympic sport, and it also is a secret weapon for everyone who wants increased strength and power, whatever the chosen sport or activity, but teaching a power clean, for example, takes specialized expertise.

That's where USAW and Messrs. Schmitz and Curry enter the picture, but to seize this opportunity you will have act quickly: the deadline is 5 p.m. MST on April 8.

For full details, "Go to www.usaweightlifting.org and click on the COACHING COURSE CALENDAR link in the bright yellow box on the home page," said USAW Member Services Coordinator Juliet Moore.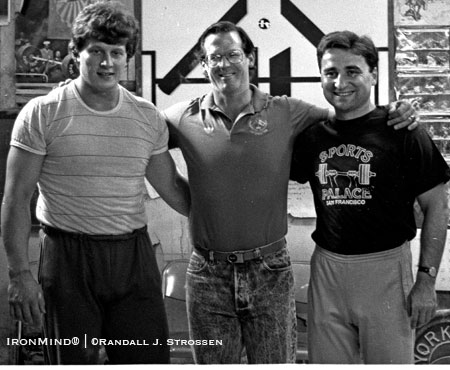 Nicu Vlad (left) and Dragomir Cioroslan (right) were coming to the USA for the 1990 Goodwill Games, so Jim Schmitz (center) organized some coaching clinics, coordinating USAW-NSCA resources. Here, the three men take a break after Nicu's workout in the famous back room at the Sports Palace . . . where Jim Schmitz christened the Romanian Deadlift. IronMind® | Randall J. Strossen photo.