Jim Davis: Heart Attack, But OK
Jim Davis, the man who many of us credit with making huge contributions to the development of strongman in the US, suffered a heart attack, but he has been released from the hospital.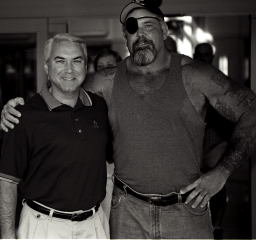 Jim Davis (right) with Gil Engler of Children's Miracle Network (St. Louis, Missouri). IronMind® | Randall J. Strossen, Ph.D. photo.

Jim Davis came into strongman when it was still struggling to establish itself in the US, and along with putting on some of the top contests of the day, he raised very substantial amounts of money for the Children's Miracle Network. In 2001, not even a week and half after the terrorist attacks on New York and Washington, D.C., Jim Davis went ahead and put on his contest—it would have been easy to pull the plug, but the show went on and many of the world's top strongmen met the challenge, got on planes and came to Jim's contest.

Jim's out of the hospital, and we pray for his quick and complete recovery.