Gunsan, Korea - Opening up the men's side of the Asian Junior and Youth Weightlifting Championships today, Ji Guohua (China) wasted no time showing why there is upward pressure on the lifting standards in Asia.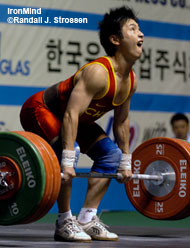 56-kg Ji Guohua (China) starts 150 kg on its way to becoming the new Asian Youth Record in the clean and jerk. IronMind® | Randall J. Strossen, Ph.D. photo.
Ji opened in the snatch with a nice 105, followed by another good lift with 116 kg. He only deadlifted 120 on his third attempt, but that was soon forgotten when the clean and jerks started.

Opening with 130, Ji made a nice lift with an especially crisp jerk, so things looked promising. On his second attempt, Ji had another good lift, 145, which set the stage for a big third attempt. Why waste time? Ji, who just turned 17 a couple of weeks ago, made a very nice 150 on his third attempt.

How many 17-year-old kids can clean and jerk almost 100 kg over bodyweight?