Jessen Paulin Retires From International Strongman Competition
Two-time winner of the Canada's Strongest Man contest and four-time World's Strongest Man competitor Jessen Paulin is retiring from international strongman competition, and this means that he is withdrawing from FORTISSIMUS, IronMind® was told today.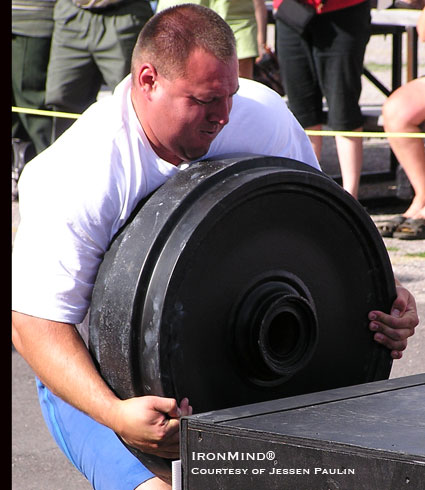 Jessen Paulin, shown loading a 420-pound wheel, is retiring from major international strongman competition. IronMind® | Photo courtesy of Jessen Paulin and FORTISSIMUS.

In an official statement, IronMind® was told, "Jessen Paulin has informed FORTISSIMUS officials of a decision that he said 'breaks his heart,' as he would have loved to sign off his international career as one of Canada's flag bearers. 'Out of respect for the name of Louis Cyr, the fans and the organizers, I have to step down. FORTISSIMUS is too much of a challenge at this stage of my career and I want to be remembered for what I have accomplished over the past ten years and not for what I cannot handle any more. As far as I am concerned, FORTISSIMUS is absolutely out of my capabilities today. From this moment, I retire from major international competition. For the year 2008, I will resume my competing with the Quebec Strongman Cup and at the Canada's Strongest Man contest in August. I am not looking any further for now.'"

"The decision had shaped up after the Super Series Mohegan Sun Grand Prix," described by Jessen Paulin as his 'worst-ever strongman competition.'"

Fortissimus organizer Paul Ohl said, "It comes as sad news for Canada's strongman sport. Jessen Paulin always was and still is one of Canada's most respected strongmen. His decision sends the clear signal of a definite changing of the guard in Canada. The stage is set for a new leader to rise and walk in Jessen's footsteps."

From IronMind®'s perspective, we have nothing but great memories of Jessen Paulin's career as a top international strongman competitor, and while we are saddened by this announcement, we also salute Jessen's wisdom and bravery for knowing when to say when. Merci pour les souvenirs, Jessen, et la bonne chance, notre ami!