Jessen Paulin: Next Up is World's Strongest Man
"It was a great weekend," 2007 North America's Strongest Man winner Jessen Paulin told IronMind®.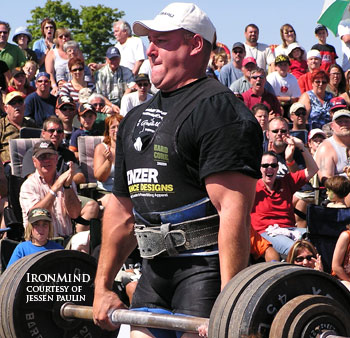 Jessen Paulin, winner of the 2007 North America's Strongest Man contest, shown on the Apollon's Axle Deadlift. IronMind® | Photo courtesy of Jessen Paulin.

Paulin emerged victorious after a very close three-day battle, in front of an estimated crowd of 8,000 fans who showed the kind of support that Odd Haugen said rivals anything he has seen anywhere in the world.

"Really gave it my all," said Paulin. "Shaw showed great skills and unlimited potential . . . Good spirit and a giant body too," Paulin said, praising runner-up Brian Shaw. "Competitors, crowd, organizers and TV were pleased everything ran smoothly."

Looking ahead, Paulin said, "I have to recover well now and practice some tricks for WSM, as I am an alternate. You never know ... what you're gonna get."