Jesse Marunde Memorial Fund
The holidays are good time to remember those who would benefit from a helping hand - and your contribution needn't be something huge or something necessarily sent halfway around the world to do a lot of good . . . and one cause that is close to home for many of us is the Jesse Marunde Memorial Fund.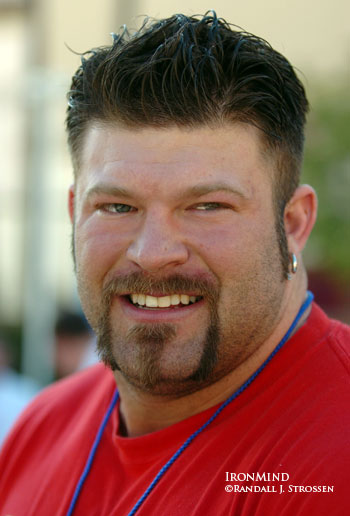 Always a crowd pleaser, Jesse Marunde worked the other side of the microphone at the big strongman contest at the 2007 FitExpo. IronMind® | Randall J. Strossen photo.

Jesse Marunde first made a big splash at IronMind® when J. V. Askem introduced Jesse to us, and Jesse was certified on the No. 3 Captains of Crush® Gripper at the ripe old age of 18 - which led to Jesse being dubbed "The First Teenage Captains of Crush" when J. V. wrote the official report for the September 1998 issue of MILO®. This was only the beginning for Jesse, who went on to become a formidable strongman, and his grip strength was among the top in the world.

When Jesse Marunde was taken from us far before we were ready to let him go, he left a big hole in a lot of lives, and if you are able, one way to help out is to make a contribution to Jesse's memorial fund:

First Federal Savings Bank
Jesse Marunde Memorial
333 N. Sequim Avenue
Sequim, WA 98382 USA

Tel: +1-360-683-3886

At Jesse's memorial service, his true-blue friend Sarge exhorted all of us to go out and do a set of squats for Jesse, and in that same spirit, put some extra effort into your next gripper workout, too, and if you are able, remember the Jesse Marunde Memorial Fund.