Jarno Hams: The Semi Finals, and Pamela Anderson, Too
Dutch strongman Jarno Hams is continuing with the TV show Dancing With the Stars on Ice and Marcel Mostert told IronMind that Jarno "still does great . . . maybe a new sport for him?"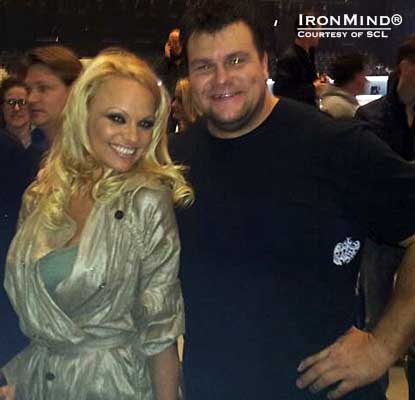 Instead of hanging out with other outsized strongman competitors, Dancing with the Stars on Ice gives Jarno Hams has a chance to rub elbows with Pamela Anderson, for example, instead. IronMind® | Photo courtesy of SCL.


How well is Jarno doing? Here's Marcel Mostert's report.

"The 7 times Dutch Strongest Man is doing really well in the mega show Dancing with the Stars on Ice!

"Last weekend he reached the semi-finals, as there are just 2 shows to go. In his performance, he lifted his dance partner 7 times up in the air in a 1.30 minute during act and that was probably also a new lifting record in ice shows.

"Pamela Anderson was also on the show and was really impressed by Jarno. She also did a skating act and she loved to be in Holland.

"Jarno keeps on going well, and doing next week maybe 8 lifts. In any case, we wish him luck to reach the finals! After that he can finally focus again on the Strongman Champions League tour, as the SCL Calendar will be presented here on 1 February.

"Possibly Jarno goes for the World Championships in figure skating instead of strongman? We will see," said Mostert.

Here's a link to Jarno's last show.
### 



The IronMind Forum: discuss this article, talk strength, get help with your training.

You can also follow IronMind on Twitter.