Jarno Hams Set for "Stars Dance on Ice"
"The seven-time Dutch Strongest Man Jarno Hams will appear on 1 January 2013, live in the Dutch TV show Stars Dance on Ice.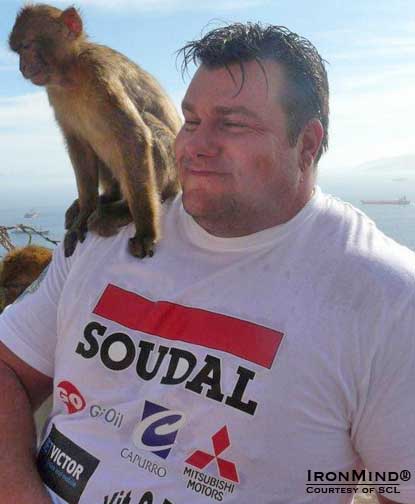 No kidding, Jarno Hams, shown with a little friend made while competing in the Strongman Champions League (SCL) finals in Gibralter, will show his skills dancing on ice. IronMind® | Photo courtesy of SCL.


"It's a big show in Holland, as in many other countries, and Jarno is already in training to do some pirouettes and girl lifting on the ice. With his 155-kg body weight it will be a massive attack for the ice when he falls, so therefore he is training hard now not to do that.

"Luckily Jarno knows how to ice skate, as all people do in Holland because of its long speed skating history, although going backwards and making circles with a girl in your hands is slightly different.

"We think this is good for his already well known name in Holland and good for the strongman sport in general. He will dance against other stars, like actors, news icons, singers, etc., and hopes he will come through all seven episodes to reach the finals.

"Anyway, he will have some busy months now and we wish him all the luck to be soon the new ice king," said Mostert.

### 



The IronMind Forum: discuss this article, talk strength, get help with your training.

You can also follow IronMind on Twitter.