Janne Virtanen and Tarmo Mitt Win World Strongman Federation World Team Cup
Held yesterday "in the center of Riga (at the central train station ), a lot of people supported this great strongmen show!" Vlad Redkin reported to IronMind®, clearly happy with a very successful World Strongman Federation (WSF) contest.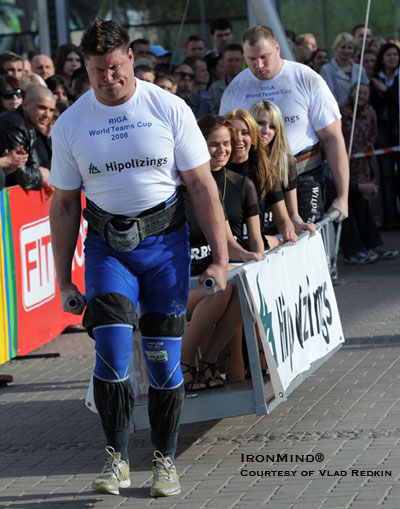 Janne Virtanen (front) and Tarmo Mitt (rear) won yesterday's World Strongman Federation (WSF) Strongman team contest in Riga, Latvia. IronMind® | Photo courtesy of Vlad Redkin.


"Janne was great with Tarmo, but the young Latvian team also showed good results and power," Vlad told IronMind®. Here are the final scores:

1. Janne Virtanen/Tarmo Mitt - 26 points
2. Rolands Gulbis/Artis Plivda - 25 points
3. Krzysztof Schabowski/Krzystof Radzikowski - 17 points
4. Vilius Petrauskas/Antanas Abrutis - 15 points
5. Rene Minkwitz/Boris Haraldsson - 7 points

Started earlier this year, the World Strongman Federation is a continuation of Vlad Redkin's efforts in the strongman world. "Step by step we will win," Vlad told IronMind®, adding, "WSF is an absolutely public organization."