Janne Virtanen Shines at WSM
Janne Virtanen, who won the title in 2000, was the big story at the MET-Rx World's Strongest Man contest today, as he produced the fastest time in the Car Walk and was absolutely ripping through the course in the Farmer's Walk before what was initially guessed to be a cramp or a muscle tear in his leg forced his foot off the accelerator.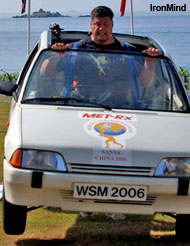 The classic Car Walk returned to the World's Strongest Man contest today and Janne Virtanen was the man with the F1 engine. IronMind® | Randall J. Strossen photo.

When the qualifying heats for the 2006 MET-Rx World's Strongest Man contest were announced, there was a strong feeling that the contest organizers had done an excellent job creating balanced, tough groups for the qualifiers, and after three days of battles, this feeling is being borne out - all the heats are proving to be very tough, and the struggles to make the finals will go down to the wire tomorrow.

The defending World's Strongest Man winner, Mariusz Pudzianowski, continues to lead group one and he remains the only competitor who is seen as very likely to make it to the finals, but the second slot from this group remains up for grabs: after today's action, Don Pope is in second place, but Arild Haugen is a very close third, only 1-1/2 points behind Pope.

Terry Hollands leads group two, with Jesse Marunde one point behind. Raivis Vidzis and Dave Ostlund are pushing hard, but this group only has one event tomorrow.

In group three, Janne Virtanen lit things up in the Car Walk and then came flying out of the blocks in the Farmer's Walk, before an assumed cramp or muscle tear dropped his speed. Just minutes ago, Janne said that it was a small muscle tear in his calf and he is expected to start tomorrow. Phil Pfister is tied for first place in this group.

Tarmo Mitt leads group four, with Jarek Dymek in second, but Kevin Nee, Dominic Filiou and Boris Haraldsson are fighting to move up, and since this group has two events tomorrow, a lot of scoring opportunities remain.

The top positions in group five are unchanged from yesterday, with Sebastian Wenta leading and Slawomir Toczek in second place. Josh Thigpen is in third place, followed by Odd Haugen and then Magnus Samuelsson, whose back has severely limited his ability to compete up to par.

Today's Car Walk was described as very challenging, with the majority of the competitors unable to complete the full distance on the course - highlighting just how impressive Janne Virtanen's performance was.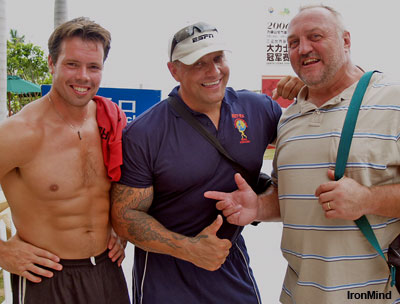 No armchair experts, Jouko Ahola, Svend Karlsen and Bill Kazmaier (left to right) have won six World's Strongest Man titles in total - now, they work designing events and equipment, refereeing and calling the action for WSM . . . Talk about world's strongest backup . . . . IronMind® | Randall J. Strossen photo.