Janne Virtanen: Ready to Fly at World's Strongest Man
"I remember last year that one day you wrote, 'Janne Virtanen Shines in WSM Qualifiers' . . .I'm pretty sure that this year he will shine in the final, too," Jyrki Rantanen told IronMind.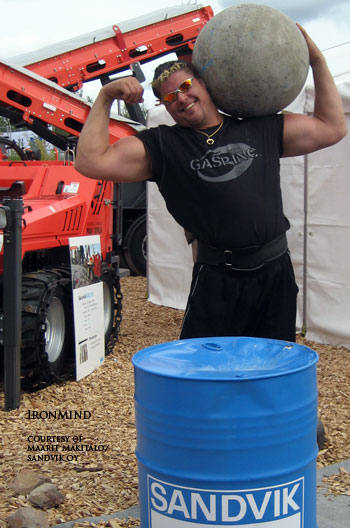 2000 World's Strongest Man winner Janne Virtanen at an exhibition a couple of days ago. Virtanen is said to be in top form, so will 7 be his lucky number? IronMind® | Photo courtesy of Maarit Makitalo/Sandvik Oy.
Jyrki Rantanen might be best known for his selfless chauffeuring of Randall Strossen from Helsinki to Lahti at about 4 am, only to return a couple of hours later to guide the Finnish Tour, a visit to some key gyms in the area, but he's also a good friend of Janne Virtanen. Virtanen is the 2000 World's Strongest Man winner, and he is showing up on short lists as a favorite for the 2007 contest, which begins on Saturday.

"Janne's last preparations have gone really well and he haven't suffered any injuries lately," Rantanen told IronMind®. "For the WSM final 2007, my count is that 'the old school' will go fast and strong. For the old school I count Virtanen, Samuelsson, Mariuz and Jarek and of course you can't forget Terry Hollands, Tarmo Mitt and last year's champion, Pfister."

"I just drove Janne to the airport," Jyrki Rantanen reported . . . showing once again that he is the strength world's most in-demand personal driver.