Janne Virtanen Competing at World Strongman Federation This Weekend
Jyrki Rantanen has just confirmed that 2000 World's Strongest Man winner Janne Virtanen will be teaming up with Tarmo Mitt at this weekend's World Strongman Federation competition in Riga, Lativa.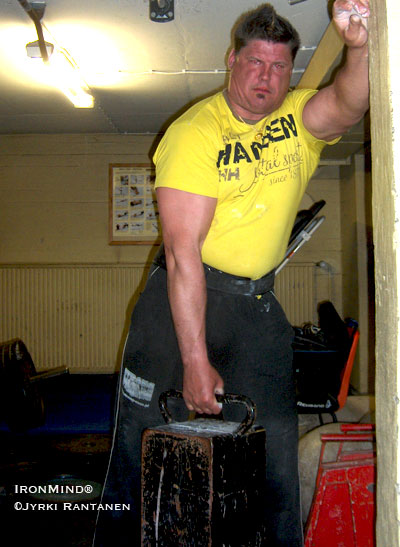 Janne Virtanen tunes up his grip for this weekend's World Strongman Federation competition. That's a 205-kg power stairs weight. IronMind® | Jyrki Rantanen photo.
World's Strongest Man winner in 2000? Sure, Janne is a mere youth compared to 59-year-old Odd Haugen, who's still competitive, but what about the whispers that he's too old or too frequently injured? For some answers, we asked Jyrki Rantanen, who trains with Janne.

"Despite the rumors that Janne Virtanen is always injured, he's starting his 2008 season earlier than it was planned: Tarmo Mitt called Janne to compete as his partner in Riga this weekend at Vlad Redkin's WSF competition. Three days' warning time is enough in the middle of heavy training season," said Jyrki, with a smile. "Of course, Janne helps his friend."

"Janne's training is going great," continued Jyrki. "He just started events for this year with the following warm-up day":

Farmer's walk: 175 kg (per hand) for distance with a turn
Yoke: 350 kg with turns
Log Lift: 150 kg for reps

"Janne is aiming to do a 2 x 200-kg farmer's walk for 30-40 meters this summer," added Jyrki.

"His season continues in Moscow, 14-15 June, and in Norway, 5 July. Janne is also looking for some other top competitions during the year, and of course he hopes that he's invited to the World's Strongest Man, and he's also considering the invitation which he got from the Strongman Champions League."

From the sound of this, IronMind® would have to say that if Janne Virtanen isn't alive and well, he must be doing a pretty good job of faking it.