James Ward Wins 90-kg Europe's Strongest Man
In a two day, eight event competition for the title of Europe's Strongest Man Under 90 kg, England's James Ward took the victory over a field of eleven competitors.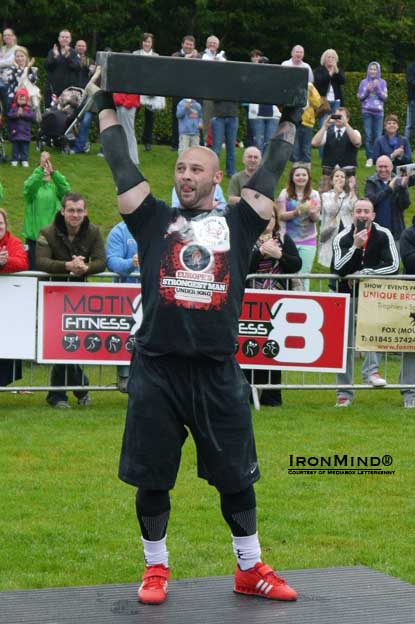 James Ward won the 2012 Europe's Strongest Man Under 90 kg title in Letterkenny. IronMind® | Image courtesy of Mediabox Letterkenny.


"We had a fantastic event for the Europe's Strongest Man Under 90 kg," organizer Dave Warner reported to IronMind. "A very exciting contest with all competitors having chance to shine. Massive Letterkenny crowd enjoyed the day and have already invited the event organisers back for 2013!

"The winner was James Ward, 27 years old from England, with Ireland's Shay Ryan coming a strong second—massive performances from Lithuania's Mindaugas Brazauskas and Scotland's Jeremy Vickers.

"ESM oficials are now looking for 90-kg contest promotors throughout Europe to run qualifiers to make next years event bigger & better than ever," Warner said.



###

Visit the IronMind Forum: talk strength, discuss this story. Strongman, grip, Highland Games, Olympic lifting, stones and more.

You can also follow IronMind on Twitter.