Jae Uk Mun Certifies on the Red Nail
With a year of steel bending under his belt, South Korea's Jae Uk Mun has officially bent the IronMind Red Nail and been certified on this benchmark short steel bend.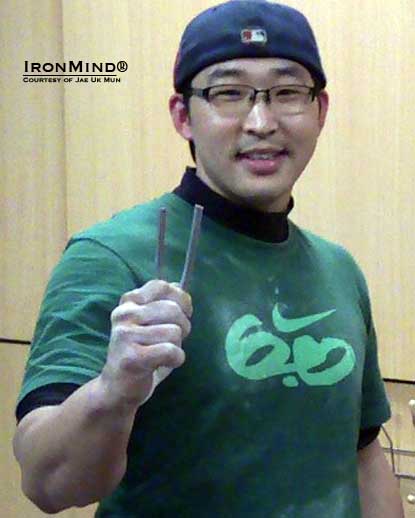 Saying he was hungry to succeed, Jae Uk Mun has done just that—he conquered the IronMind Red Nail. IronMind® | Photo courtesy of Jae Uk Mun.


The 31-year old electrician stands 176 cm tall and weighs 79 kg; and with 40 successful Red Nail bend in training, he was more than ready to meet the challenge for his certification. Jae Uk Mun noted that in addition to bending he also trains with Captains of Crush (CoC) grippers and that he does hammer curls as a warm up before he starts bending, so that might be a good tip for those who haven't given this a try. He said his lower arm strength is an asset both at home and on the job.

Congratulations, Jae Uk Mun, and many thanks to Sumin Hong for serving as the official referee: Jae Uk Mun's name has been added to the Red Nail Roster, recognizing his accomplishent.

### 



The IronMind Forum: discuss this article, talk strength, get help with your training.

You can also follow IronMind on Twitter.