Jacob Nicol Wins SAAA Lightweight World Highland Games Championships
In a competition that included world record level performances, Jacob Nicol won the SAAA Lightweight World Highland Games Championships.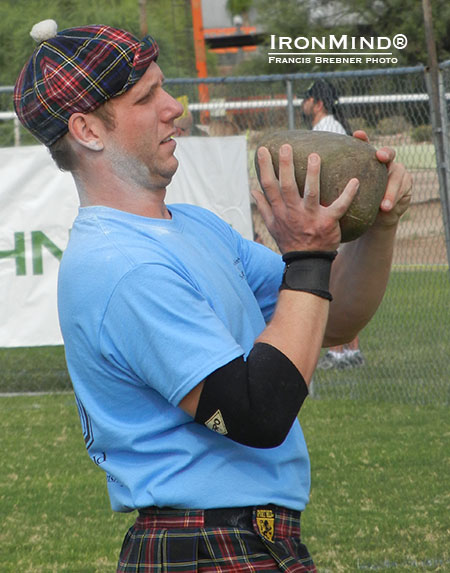 Jacob Nicol is the 2014 SAAA Lightweight Highland Games world champion. IronMind® | Francis Brebner photo




2014 Lightweight World Highland Games Championships
by Francis Brebner

The Tucson Highland Games celebrated its twenty-eighth year of consecutive traditional Highland Games. Thousands gathered over the two days of festivities, with the main event this year being the 2014 SAAA Lightweight World Highland Games Championships (those under 200 lb.).
Thirteen athletes competed in the eight standard events: USA's Jon Dahlin, Mark Howe, Jeffrey Thornton, Jacob Nichol, John Odden, Luke Lomsdalen, and Garrett Middleton; Canada's Bryan MacLean; Scotland's James Dawkins and Conan Quinn; England's Harry Hancock; Austria's Lukas Prettenthaler; and Germany's Torsten Hülseman. This line-up by far comprised the best representation at the Lightweight World Championships to date.

The first event, the 22-lb. Braemar stone, was riveting as athletes went all out to secure the first win of the championships, which went to Nichol with a putt of 34' 2-1/2". Second was Hülseman at 33' 8" and third Thornton at 33' 1/2".

With the first win under his belt, Nichol was looking relatively relaxed going into the 16-lb. open stone and he once again claimed the victory, with a distance of 43' 8-3/4". Thornton took second place at 42' 2" and Hülseman third at 41' 9-1/2".

In the heavy weight for distance, Odden came into his own, unleashing a series of world-class throws with a best of 48' 2" for the win. On extra attempts he upped this mark to 50' 10", which is waiting for verification as a new world record. The current record is 48' 8", held by USA's Isaac Burchett and set in Warrensburg, Missouri in 2006. Nichol took second place with a best of 46' 11-1/2", followed by Thornton at 41' 7".

Nichol pulled off yet another win in the 28-lb weight for distance with a top-notch throw of 71' 3-3/4", outpacing second-place Odden at 67' 9" and third-place Howe at 60' 1/2". After four events, Nichol was looking very comfortable in the driver's seat with three wins going into the hammers.
A top hammer thrower in the group was Dawkins, who was in a league of his own, dominating from the first round in the 22-lb. hammer with a bombardment of superb throws and setting a new world record at 98' 9". The previous world record was set at 98' 2-1/2" by Burchett in St. Louis, Missouri in 2005. Nichol took second with 86' 10" and Middleton third with 84' 8".

In the 16-lb. hammer Dawkins cemented his position as the number one world's lightweight thrower in both hammers. His victorious distance of 126' 1" obliterated the prior world record of 120' 1" set by Burchett in Kirksville, Missouri in 2006. In second was Nichol at 115' 9", and in third Odden at 106' 10".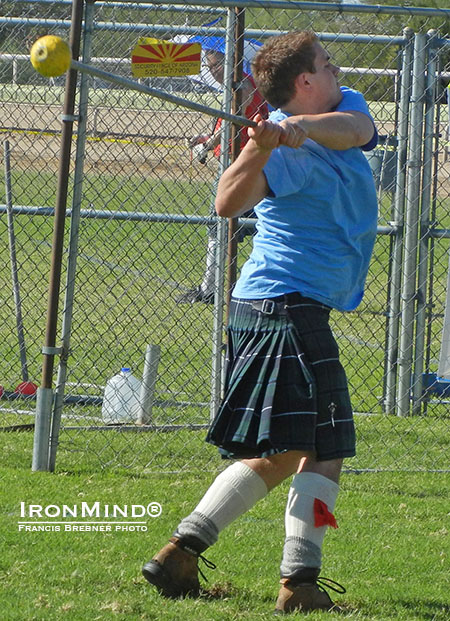 James Dawkins "was in a league of his own" on both hammers. IronMind® | Francis Brebner photo


In the 42-lb. weight over bar, Odden, Thornton and Nichol went at it from the first round and ended in a tie at 16', but the winner, on countback with fewer misses, was Odden, followed by Thornton in second and Nichol in third.

The final event, the caber toss, with a 95-lb., 16' 2" stick, was won by Odden, the only athlete to successfully toss the caber, doing two perfect 12:00's. Second was a tie between Lomsdalen and Howe with a best of 80-, 75-, and 85-degree attempts.

Overall places
1. Jacob Nichol

2. John Odden
3. Jeffrey Thornton

4. Garrett Middleton

5. Mark Howe

6. Torsten Hülseman

7. Luke Lomsdalen

8. James Dawkins

9. Jon Dahlin
10. Conan Quinn
11. Lukas Prettenthaler

12. Bryan MacLean

13. Harry Hancock

The championships was a great success and the SAAA and the Tucson Highland Games team did an excellent job of running the athletics over the weekend. Lightweight champion Jacob Nichol noted that the competition was of the highest standard and said, "I am just so happy to have pulled off the title of world champion. I have trained hard for these championships since last year and all the long, hard hours of practicing and training in the gym have paid off."

###



Want to talk strength? Join the IronMind Forum.

You can also follow IronMind on Twitter and on Facebook.