Santa Monica, California - Jack LaLanne's 90th birthday party was as upbeat and energetic as the man who makes Duracell batteries look bad.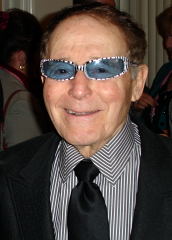 Jack LaLanne is ready to party at his 90th birthday celebration. IronMind® | Randall J. Strossen, Ph.D. photo.
Hosted by IRONMAN magazine, Befit Enterprises and the LaLanne family, Jack LaLanne's 90th birthday party was a pure delight.

Set in the main ballroom of the Hotel Casa Del Mar, brushing against the beach, the party was packed with people ranging from near-contemporaries of Jack LaLanne (such as Jimmy Payne) through guys who were barely born when Jack first hit TV with his exercise program that transformed the way Americans thought about diet and exercise.

Jack LaLanne opened what is regarded as the first modern gym in 1936, and he said that at the time he opened, the local Oakland, California newspapers predicted that he would be out of business within six weeks. More than half a century later, Jack LaLanne is still going strong and never losing his optimistic outlook, he closed his comments by saying, "Anything in life is possible if you make it happen."