Ivan Beritashvili Certifies on the IronMind Red Nail
Adding to his laurels in the world of lower arm strength, Ivan Beritashvili has just been certified on the IronMind Red Nail, the world's best known short steel bend.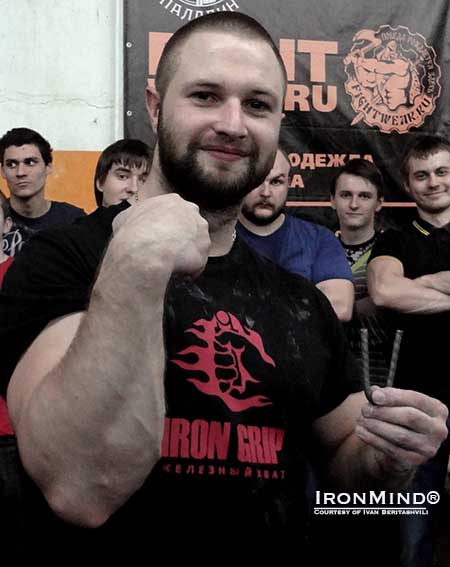 Not content to stop with certifying on the Red Nail, Ivan Beritashvili told IronMind, "My training goal in short steel bending is deformation [of the] Red Nail to past 40 degrees in reverse technique barehanded." IronMind® | Photo courtesy of Ivan Beritashvili


Beritashvili, who is certified on the Captains of Crush No. 3 gripper, told IronMInd, "I am an oil and gas facilities diagnostics engineer and post-graduate student. In about half-a-year I hope to finish my thesis.

"My main interest is developing grip-sport and steel bending in Russia. I am leader of 'Iron Grip' on-line community and promoter of Russian and international grip contests. I want to heartily thank David Horne for guiding me and for all his help with this.

"Also I am grip-sport and steel bending coach in Fight&Fit 'PALADIN' center. It is the main training base of Russian grip and bending team. For about one year of my coaching, I have grown up 1 CoC#3 [Captains of Crush No. 3 gripper] and 5 Red Nail certified athletes. Some of them already had good [foundation] in aspects of grip.

"My main social goal is to make grip-sport and steel bending popular, spectacular and prestige, to involve and coach as many people as it is possible, prepare them for contests and certifications."

Many thanks to Maxim Morozov for refereeing Ivan Beritashvili's official attempt to bend the IronMind Red Nail, and congratulations to Ivan on his success: your name has been added to the Red Nail Roster.

###

Want to talk strength? Join the IronMind Forum.

You can also follow IronMind on Twitter and on Facebook.