"It's Not a Problem for Jon Pall"
Consider the elements: a superhero strongman, a country where reality takes on mythical proportions, an Oscar-level filmmaker, and a passionate producer who understands the pieces and can assemble them in a way that creates a whole even larger than all the mighty parts.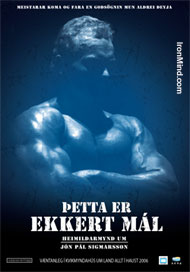 "It's not a problem for Jon Pall" - tell us why Jon Pall's battle cry lights your fire and you might win this original movie poster. IronMind® | Poster and photo courtesy of Hjalti Arnason.

Jon Pall Sigmarrson is the strongman, Iceland is his country, Steingrimur Thordarsson is the filmmaker, and Hjalti Arnason is the producer who put together the pieces of the puzzle, and the result of his efforts, the Jon Pall documentary, is making major waves.

After a sweeping premiere last week in Reykjavik, attended by the Icelandic president Olafur Ragnar Grimsson, and strength world notables from as far away as the UK and California, things have only been growing.

Over the weekend, the Jon Pall film doubled the attendance record of the previous top-drawing Icelandic documentary and it beat every Hollywood movie at the box office in Iceland . . . every single one of them. The film has already won praise from the critics as well, and for all of its immediate success, the best seems yet to come.

Thanks to Hjalti Arnason's generosity, IronMind® is extremely privileged to have a small quantity of the original movie posters, and over the coming days, we will send them out as awards . . . We'll ask a question, set a time limit, and the best answer in that time wins the poster - simple as that, with no fine print on who is eligible and who is not.

"It's not a problem for Jon Pall" - the battle cry and catch phrase of Jon Pall Sigmarsson - rhymes in Icelandic and as Hjalti Arnason explained, it became part of Icelandic culture . . . "It was burned into the heart of the nation," Arnason said.

Tell us what Jon Pall's catch phrase means to you and why it is so empowering. Answers are limited to 25 or fewer words; email your answer to sales@ironmind.com by midnight tonight (Pacific time, GMT-8). We will choose the winner and send him or her a Jon Pall movie poster with our compliments.

"It's not a problem for Jon Pall."