Everyone knows that Phil Pfister won the World's Strongest Man contest, but is he smarter than a fifth grader?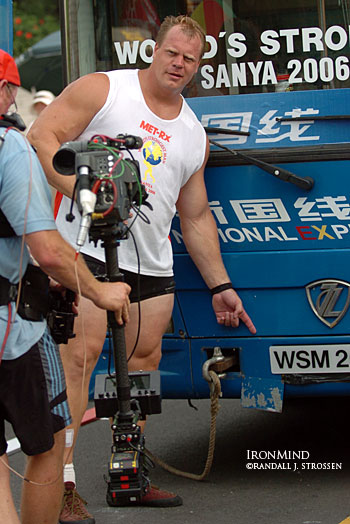 He called it right: After winning the Bus Pull at the 2006 World's Strongest Man contest, Phil Pfister knew that he was closing in on the title. Tonight, see how he does on the TV show Are You Smarter Than a 5th Grader? IronMind® | Randall J. Strossen photo.

Based on IronMind®'s direct experience, Phil Pfister knows the difference between Kikkoman red and green soy sauce, so our vote says yes, because we don't know too many fifth graders who could get this one right, but tonight everyone can find out how he really stacks up because World's Strongest Man winner Phil Pfister is appearing on Are You Smarter Than a 5th Grader? The show airs on Fox at 8:00 p.m. Eastern Time, but check your local listings for details in your area.

Still competing in strongman, Phil Pfister is the Community Development Coordinator for Chesapeake Energy, and he is organizing America's Strongest Man this summer, but the question remains, "Is he or isn't he?"