IronMind Record Breakers—Valhalla
Juha Harju announced that he will end the year with a bang: How about an IronMind Record Breakers with, count them, four former/current world record holders among the competitors?!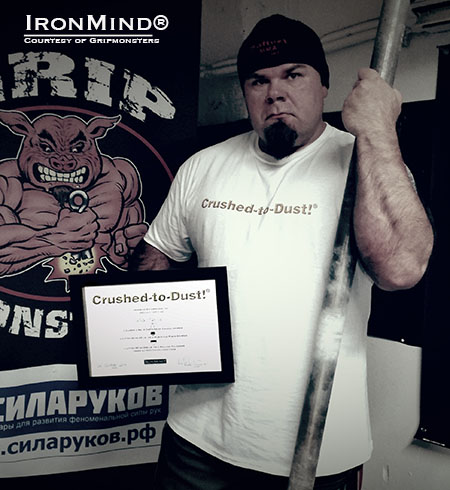 Finnish grip strength competitor and promoter Juha Harju is ending the year with an IronMind Record Breakers which is expected to produce some eyeball-popping results. IronMind® | Photo courtesy of Juha Harju/Gripmonsters


The official events are:

• IronMind Hub
• IronMind Little Big Horn
• IronMind Captains of Crush (CoC) Silver Bullet Hold
• IronMind Crushed-to-Dust! challenge

Juha Harju and Alexey Tyukalov are former world record holders on the CoC Silver Bullet Hold, and if that's not enough, Harju told IronMind, "The current IronMind Hub world record holder, Ari Siltaoja, will come to defend his world record, and my brother, Matti Harju (former IronMind Hub world record holder), will also be competing, and trying to break Ari Siltaoja´s current IronMind Hub world record. We´ll see real battle at IronMind Hub."

For the spectators, Harju is serving up:

• Farmer's Walk with IronMind Little Big Horn Farmer's Walk
• Deadlift with 50 mm Silarukov Handles

So, whether a competitor, a spectator or somewhere in between, the IronMind Record Breakers has something for you.

The contest will be held on December 13, 2014 in Valhalla (Lieto, Finland).

###



Want to talk strength? Join the IronMind Forum.

You can also follow IronMind on Twitter and on Facebook.