Like weightlifting and want to see some of the world's top competitors without traveling halfway around the planet? Then be sure to go to the Arnold this weekend.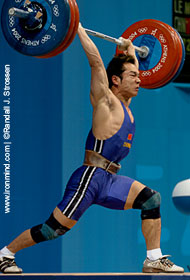 Le Maosheng (China) will be at the Arnold this weekend - this silver medalist from the Athens Olympics lifts in the 62-kg category and he's the world record-holder in the clean and jerk, at a little over 400 pounds. IronMind® | Randall J. Strossen, Ph.D. photo.

IronMind®, with more than a little help from our friends, is proudly presenting three medalists in weightlifting from the Athens Olympics as part of the overall weightlifting program at the Arnold this weekend. These superstars will be lifting on the main stage of the Expo Hall at 11 am on Saturday, so be there if you want to see some world-class weightlifting; and on Friday morning and on Sunday, during at least part of the day, they will be over in the weightlifting competition area where "the Columbus Weightlifting Club, in conjunction with Ohio Weightlifting, proudly showcases weightlifting of all ages at the Fourth Annual Arnold Weightlifting Championships. Experience why this is Arnold's signature event and his highlight of the Expo," says Columbus Weightlifting Club's Mark Cannella.