IronMind Grip Classic–Volume 2
Jyrki Rantanen has announced the IronMind Grip Classic–Volume 2, with plans for significant expansion from last year's inaugural competition.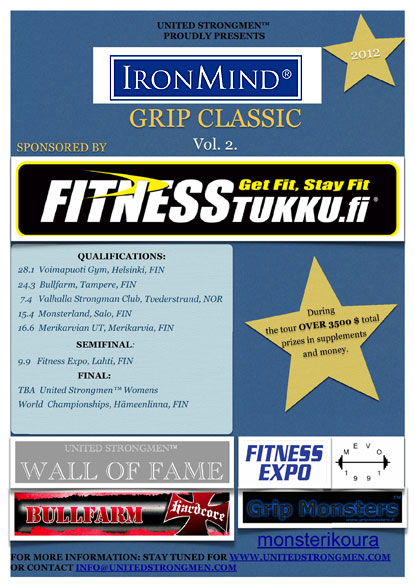 "Maybe we are starting to build the WSM [World's Strongest Man] for the grip world with all the qualification systems, etc.," Rantanten told IronMind. IronMind® | Courtesy of United Strongman.


"All Finnish qualifiers are set, but if any other country along with Norway wants to participate it is possible. With IMGC–1 (IronMind Grip Classic–Volume 1) we had already the greatest prizes ever in Finnish grip contest (US$1,000) and now the value of the prizes during the tour is minimum of US$3,500 so we are re-writing history with this tour.

Rantanen told IronMind , "Along with the top prizes," he expects, "new records, record breaking number of competitors and the great show what is going to keep the tension all year around: how many can qualify, who are in the finals, who are the king/queen of Grip in Finland 2012.

"And if you think this is great and maybe one of the biggest grip events in the world, I am already dreaming of making the tour even bigger for upcoming years by including more countries," said Rantanen.


###

The IronMind Forum: discuss this article, talk strength, get help with your training.

You can also follow IronMind on Twitter.