IronMind Grip Classic: World Record in the Rolling Thunder
Jaana Tanner broke the women's world record (hers!) at the IronMind Grip Classic Record Breakers meet.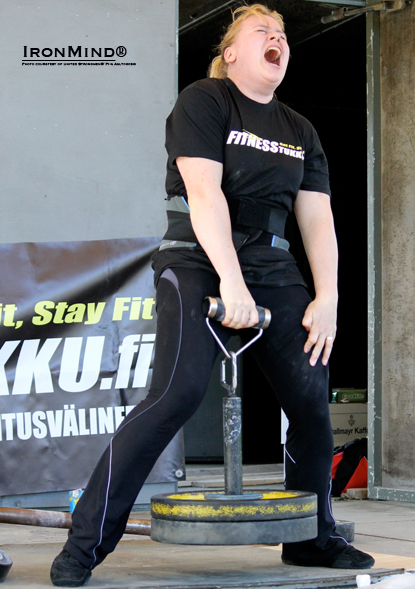 Jaana Tanner set a new women's world record in the Rolling Thunder® with this lift of 69.25 kg. IronMind® | Photo courtesy of United Strongmen®/Piia Aaltokoski.


"In the Ironmind Grip Classic Record Breakers, Tuomo Anttila set a first official Finnish record for CoC Silver Bullet with time of 17.75 seconds and on 16 June others can try to break it in the last qualification in Merikarvia, Finland," meet director Jyrki Rantanen reported to IronMind.

"On ladies side, who else than Jaana Tanner again gave some storm warnings with two great lifts: she attacked 74.25 kg in Rolling Thunder® due to wrongly loaded plates and after that she gave a really brave attempt on new women's world record of 69.25 kg.

Rantanen provided IronMind with two videos of the lift, a photograph and answered several questions as the lift was reviewed, first by Randall Strossen and then by two independent experts.

"Good lift," said Strossen. "That was the consensus, so hats off to Jaana Tanner whose on a roll when it comes to the Rolling Thunder!
"This was Tanner's second world record on the Rolling Thunder in 2012 and the year is young," Strossen said.

###

The IronMind Forum: discuss this article, talk strength, get help with your training.

You can also follow IronMind on Twitter.