IronMind Grip Classic - Volume I
"The organizing committee is proudly presenting the new top level of grip competition in Finland," Jyrki Rantanen told IronMind.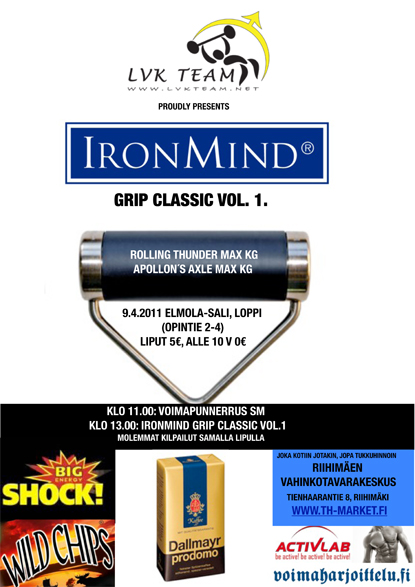 Featuring maximum lifts on the Rolling Thunder and the Apollon's Axle deadlift, Jyrki Rantanen is pushing grip contests in Finland to new heights with the IronMind Grip Classic - Volume 1, welcoming men and women, experienced and novice, alike. IronMind® | Artwork courtesy of Jyrki Rantanen.


"We believe this is the first time over US$1000 total prize money has been offered for a grip competition in Finland," said Rantanen.
Explaining what he's putting together, Rantanen told IronMind, "Classical events, good competitors, and also after the competition we´ll know how much will be the first official Finnish national record for Apollon´s Axle for men/women.

"We are still two months until the competition starts, but already we are having confirmed competitors and it´s looking that we´ll raise the number of female grip athletes in Finland with this—maybe because we are offering equality for them (the prizes are the same for both men and women). The starting weights in each class are low enough not to stop the new competitors.

"Also, in the men's class we are looking a great quality battlefield. Here´s the official challenge for all Finnish grip athletes to join the party—this is your chance to make history!

"Along with IronMind Grip Classic there´s national (raw) bench press team nationals competition in Elmola-sali, Loppi commune, Finland 9th, April 2011 starting at 11 AM."

###


Want to talk strength or discuss this article? Join the IronMind Forum!

You can also follow IronMind on Twitter.