IronMind Grip Classic - Volume 1 Produces Finnish Records
"The first ever Ironmind Grip Classic was held today in Loppi, Finland," reported contest organizer Jyrki Rantanen, who called the action for IronMind.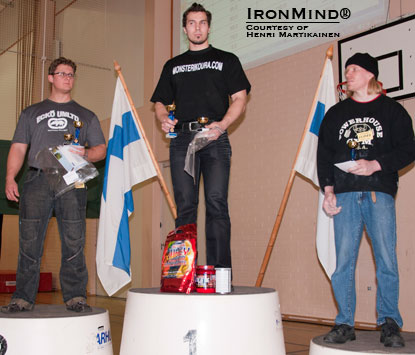 Here's the men's podium at IronMind Grip Classic–Volume 1 today: Timo Tuukkanen (left), Johannes Suomela (center), Timo Lauttamus (right). This contest was organized by Jyrki Rantanen with the goal of featuring classic feats of grip strength in a way that would open the door to more competitors and create an opportunity for breaking Finnish national records. IronMind® | Courtesy of Henri Martikainen.


The 2011 IronMind Grip Classic
by Jyrki Rantanen

There were 5 females and 10 guys battling out to decide, "Who's going to win the first IronMind Grip Classic title?"

Unfortunately, we saw some last day cancellations and for example former World's Strongest Man winner Janne Virtanen could not take a part due work schedule problems and Juha Harju was injured. But fortunately we had still a great competition and several new national records were witnessed by some 200 spectators and Finnish strength media representatives

Rolling Thunder

In ladies' class we were waiting a tight battle and that was true for the 2nd and 3rd place for due in the end there were 3 ladies within 2.5 kg (Annina Saine and Leena Nurminen with nice result of 48 kg, Yvonne Häkkinen hunting for the record 50.5 kg (RT finnish record was 51 kg before this competition with the new handle).

But in the end there was one true strength lady over the rest: Jaana Tanner, who first did a new record with 51.5 kg and then moving it up to 53 kg. She also tried 55.5 kg but that was beyond her limit today.

After the ladies, the gentlemen came to the platform, and since there was already a record holder Johannes Suomela (105kg) included, we were expecting to see some new record in men's class, too.

Suomela proved his reputation and won the event with new record of 106 kg, followed by Timo Tuukkanen and Timo Lauttamus (95kg).

Apollon´s Axle: Double Overhand Deadlift

This was the first time there was an original Ironmind Apollon´s Axle used in a Finnish grip-strength competition, so each winning result was a new national record. Before the competition we were expecting to see lifts over 200 kgs, but due to Janne Virtanen´s cancellation, the chance for it went down a little bit. The competition was tied with Johannes Suomela and Timo Tuukkanen with good lift of 190 kg (both tried 200 kg, but no success this time).

In ladies's class we also had a tie due both Jaana Tanner and Annina Saine banged out 100 kg for this one, followed by Yvonne Häkkinen with 95 kg. (Saine did a great attempt with 10 5kg and had it up, but forget to hold onto the bar when coming down - red lights and of course the second attempt was no good anymore.
| | | | | |
| --- | --- | --- | --- | --- |
| | Men | Rolling Thunder | Apollon's Axle | Total |
| 1. | Johannes Suomela | 106 | 190 | 402.0 |
| 2. | Timo Tuukkanen | 95 | 190 | 380.0 |
| 3. | Timo Lauttamus | 95 | 170 | 360.0 |
| | | | | |
| | Women | Rolling Thunder | Apollon's Axle | Total |
| 1. | Jaana Tanner | 53.0 | 100.0 | 206.0 |
| 2. | Annina Saine | 48.0 | 100.0 | 196.0 |
| 2. | Yvonne Hakkinen | 50.5 | 95.0 | 196.0 |
So, what we had was handful of national records, great competition and a limit to set for the next time > mens class over 400 kg total and over 200 kg in ladies class (results counted 2 x Rolling Thunder + Apollon's Axle = total.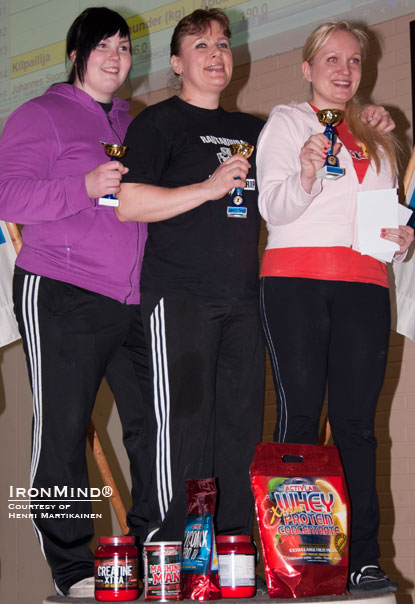 Ladies' top three: Annika Saine (left), Jaana Tanner (center) Yvonne Häkkinen (right). IronMind® | Courtesy of Henri Martikainen.


###



The IronMind Forum: discuss this article, talk strength, get help with your training.

You can also follow IronMind on Twitter.