IronMind Grip Classic: New Standard for Finland
"The IronMind Grip Classic will be held in a few weeks' time (April 9) and it appears to be the all-time greatest grip strength competition in FInland," said contest organizer Jyrki Rantanen.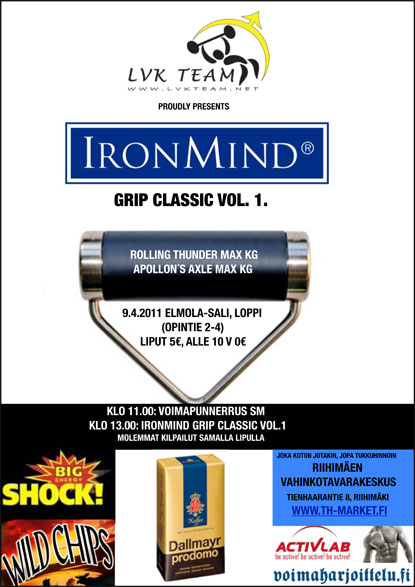 Featuring the Rolling Thunder® and the Apollon's Axle™, records will fall—with fame and fortune to follow!—as the IronMind Grip Classic promises to raise the bar for Finnish grip-strength contests. IronMind® | Courtesy of Jyrki Rantanen.


" . . . All-time greatest line-up of Finnish strength athletes with total prize money of over 1000 USD along with trophies and other prizes," said Rantanen. "We still have one week entry time and we´ll organize an event demonstration in Catisca restaurant in Loppi on March 15 - there, the people have the chance to test the apparatuses with light weights. We also dropped the starting weights to allow more newcomers to enter the competition.

"The official starting list will be announced after the end of entry time, March 18, but I can guarantee that it will be a show which makes history. We already have nearly 20 entries including newcomers and pro´s in both series," Rantanen said.

###



Want to comment on this article or just want to talk strength? Join the IronMind Forum!

You can also follow IronMind on Twitter.