IronMind Grip Classic - III
"The Third Annual IronMind Grip Classic is coming in a few days as a part of Fitnesstukku Power Week and this year it will be held in the middle of Helsinki as we will be located in Kamppi Shopping Center on top of the central bus station of Helsinki," Jyrki Rantanen told IronMind today.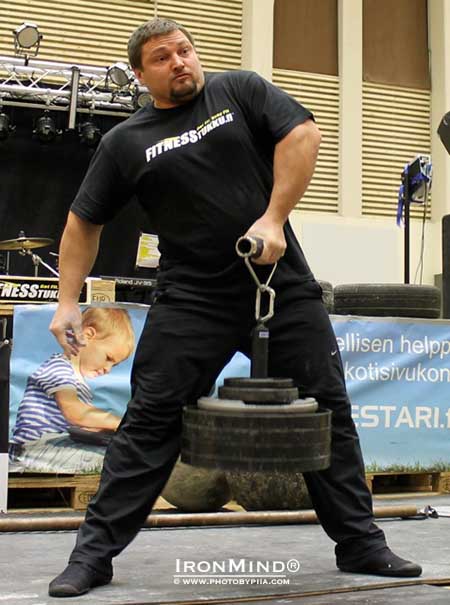 Speaking of the Third Annual IronMind Grip Classic, Jyrki Rantanen told IronMind, "The pre-favorite for the men´s competition is last year's winner, Alexey Tyukalov." Tyukalov holds the world record on the Rolling Thunder and is a past world record holder on the Captains of Crush Silver Bullet. IronMind® | Photo by www.photobypiia.com


"Already at its third year in a row, the IronMind Grip Classic introduces 4 IronMind events this year: The Rolling Thunder®, Apollon´s Axle™, Captains of Crush Silver Bullet and as a new event the IronMind Hub Walk, where the contestants are carrying an IronMind Hub in each hand as far as possible.

"The competitors' list is not long, but instead it is crowded with well known people from three different countries and we will see if Alexey Tyukalov can hold on to his title as he was the winner of IronMind Grip Classic 2012.

"We are expecting to see some great feats of grip strength and we are prepared for world record also along with national records and also in women´s class we will witness the battle of the crown for Finnish Grip Queen of 2013.

"Along with the feats in the competition, Norway´s Eirik Bruun Ingebritsen is attempting to certify on the Captains of Crush No. 3 gripper on his trip to Finland also.

"The competition will be refereed by Toni 'MonsterGrip' Laine, who has produced grip events in Finland for years," Rantanen said.

MEN:
Alexey Tyukalov, RUS
Roman Penkovskiy, RUS
Igor Borisov, RUS
Eirik Bruun Ingebritsen, NOR
Janne Virtanen, FIN
Jyrki Rantanen, FIN

WOMEN:
Jaana Tanner, FIN
Anu Rytkönen, FIN

###



Visit the IronMind Forum: talk strength, discuss this story. Strongman, grip, Highland Games, Olympic lifting, stones and more.

You can also follow IronMind on Twitter and on Facebook.