IronMind Black Friday-Silver Anniversary Sale Today
IronMind is using Black Friday as a good excuse to kick off the celebration of our 25th anniversary with a 10% sale today —it's our way of thanking all of our customers, so help us celebrate and save some money at the same time.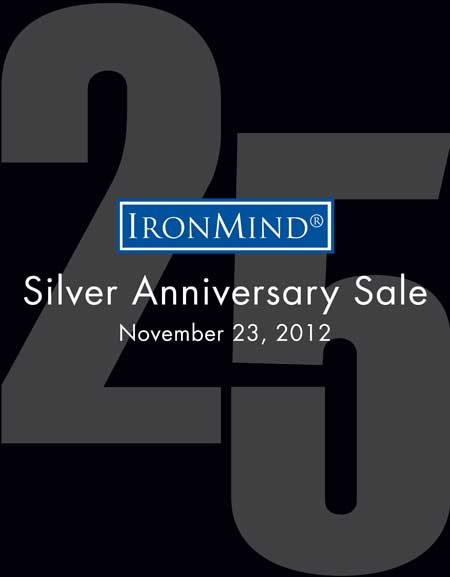 IronMind Black Friday–Silver Anniversary Sale: Join the celebration and save 10% today. ©2012 IronMind Enterprises, Inc.


Here are the details on the IronMind 2012 Black Friday–Silver Anniversary sale:

As a thank you to our customers, and to celebrate our 25-year Silver Anniversary, IronMind is giving a 10% discount on any full-priced item* purchased on November 23**. Please enter SILVER in the keycode box at View Basket when you get to checkout in the IronMind e-store.

*excludes packages, sets, kits and combos that already have discounted pricing, and Eleiko and York equipment, and MILO subscriptions

**sale runs from midnight November 22 to midnight November 23 EST

You will see the new products from the IronMind 2013 catalog in our e-store: some new items will only be available for shipping within the next week or two (and we have noted these in the e-store), but they are available for pre-ordering with the 10% discount today.

Hard to believe that IronMind is finishing its first quarter-century of business—thanks again to all of our customers!

### 



The IronMind Forum: discuss this article, talk strength, get help with your training.

You can also follow IronMind on Twitter.