Iron Grip Decathlon Challenge
Leave it to Kevin Meskew to come up with yet another great grip contest: Kevin is hosting the 2005 Southern California Iron Grip Decathlon Challenge, and if you're a grip guy, you will want to be there.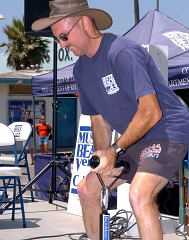 Kevin Meskew gets set for a big pull at the Rolling Thunder contest held at Muscle Beach last July. IronMind® | Randall J. Strossen, Ph.D. photo.
Kevin Meskew has long been putting on some terrific contests at the world famous Muscle Beach (Venice, California), and lately one of his themes has been grip strength. Kevin's about to take things up another notch, with his Iron Grip Decathlon, and with all the top level grip guys in Southern California, you can bet that this contest is going to see some record-level performances.

Here are the events:

1. Captains of Crush® grippers
2. dynamometer
3. smooth plate curl
4. Apollon's Axle® deadlift
5. wrist roll
6. Blockbuster Pinch Grip Block
7. IronMind® Hub
8. Rolling Thunder®
9. One-hand dumbbell deadlift (3.5" handle)
10. Deadlift hold for time

The contest is March 26 at the Power Palace in Chatsworth, California, and you can email Kevin for more details: warrior01@earthlink.net.