Iranian Weightlifting Team: The Beijing Olympics Lineup
Yesterday's announcement that Iran's superstar weightlifter Hossein Rezazadeh would not be competing in Beijing sent a buzz through the international weightlifting world and ended speculation about whether the two-time Olympic champion would be suiting up in Beijing, let alone be capable of becoming the first super heavyweight in history to win three Olympic gold medals in weightlifting.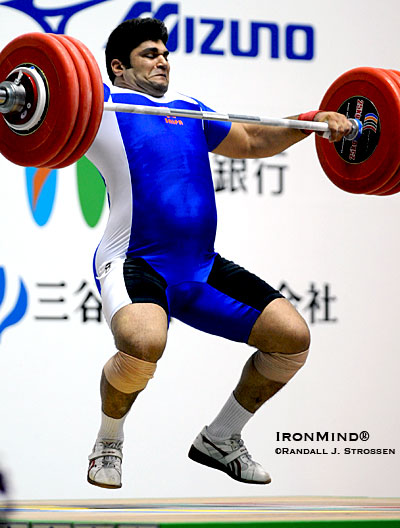 Rashid Sharifi is jumping in to fill the big shoes of Hossein Rezazadeh in Beijing next month. Sharifi's winning performance in the 2008 Asian Weightlifting Championships included this 190-kg snatch. IronMind® | Randall J. Strossen photo.

There have been few details released even within Iran, but IronMind® was able to confirm previous reports that the superstar's training had not been going as well as was hoped, with one insider telling IronMind that Rezazadeh had been plagued by a series of injuries, adding that while, "He is not old for life, he is old for weightlifting."

Filling in for Rezazadeh in Beijing will be Rashid Sharifi, who is coming off a win at the 2008 Asian Weightlifting Championships in Kanazawa, Japan. At the time of Sharifi's victory in Japan, a number of people close to the Iranian weightlifting team had told IronMind® that Hossein Rezazadeh's training had not been going well, and although there was hope that the great champion - who holds all the weightlifting world records in the super heavyweight class - would be able to defend his Olympic title in Beijing, the truth was that Rashid Sharifi's performance at the Asian Weightlifting Championships was not far below what Hossein Rezazadeh was said to be hitting in training. Currently, Rashid Sharifi is reported to be snatching about 190 kg, although his personal record is 200 kg, and cleaning and jerking 240 kg. Incidentally, taking nothing away from Rashid Sharifi as he steps in for Hossein Rezazadeh in Beijing, keep your eyes open for the return of Iran's Ali Hosseini Saeed later this year when his suspension ends - the junior, who has shown signs of becoming a sensational super, is said to have done 205/245 in training.

Along with Rashid Sharifi, Iran will be entering two other lifters in Beijing: Ashgar Ebrahimi (94 kg) and Mohsen Biranvand (105 kg).

IronMind® also confirmed today that, unfortunately, Hossein Rezazadeh is facing significant health problems. Diabetes, hypertension, and kidney problems have hampered Rezazadeh's training, and despite the opinions of the medical doctors attending him that he could not train hard any more, the Iranian star is said to have persisted in his efforts to win an unprecedented third Olympic gold medal in weightlifting, reaching the level of 202/240 before facing another in an ongoing series of health-related setbacks, and most recently, he had returned to the level of 195/235, simply too far below what he has done in the past and too far below what will be required for the gold medal in Beijing.