Iranian President Visits Weightlifting Team
Iranian President Mahmoud Ahmadinejad visited the national weightlifting team at its training hall in Tehran yesterday, as a delegation prepared to leave for the upcoming Asian Weightlifting Championships.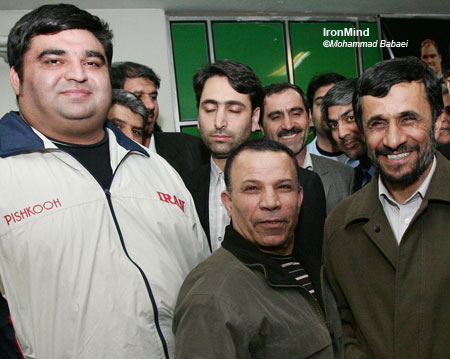 Olympic champion Hossein Rezazadeh (left), Olympic champion Mohammad Nasiri (center) and Iranian President Mamoud Ahmadinjegad (right) at the IRIWF training hall in Tehran yesterday. IronMind® | Mohammad Babaei photo.
While the IRIWF's superstar, two-time Olympic gold medalist Hossein Rezazadeh, will not be making the trip, eight lifters will be going to China for the Asian Weightlifting Championships, IronMind® was told. Hossein Rezazadeh, with an eye toward the Beijing Olympics, said that he will not be competing in the Asian Weightlifting Championships this year, but will focus on preparing for the World Weightlifting Championships, instead.