International Highland Games Federation: World Championships Set for Antigonish and Edinburgh
The International Highland Games Federation (IHGF) has confirmed that Antigonish, Nova Scotia (Canada) will host the 2009 IHGF World Highland Games Team Championships July 18 - 19.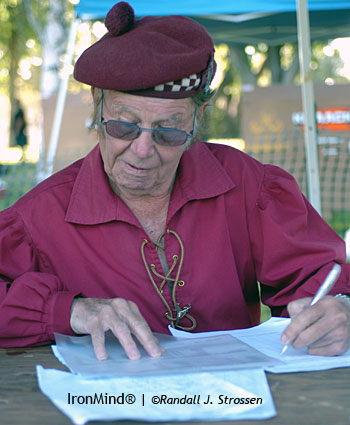 David Webster, OBE, hard at work compiling scores before hitting the field to call the action at the 2008 Pleasanton Highland Games (presented by the Caledonian Club of San Francisco). IronMind® | Randall J. Strossen photo.

The following weekend (July 25 -26) the IHGF will be front and center in Edinburgh, Scotland, hosting its World Highland Games Championships, and IronMind® has been told by someone close to the discussions that there "is a very strong possibility of another major event taking place the week after" the IHGF World Highland Games Championships. This situation leads to "the possibility of all three events being filmed for cable TV, which will be good for the promotion of our sport and its athletes," IronMind® was told.

The World Team Championships will consist of six teams of two each, coming from around the world and competing in eight of the traditional Highland Games scoring events. "There is considerable competition between the different countries, and this concept will be developed in future years," said David Webster, OBE, president of the IHGF.

Both Francis Brebner and Ryan Vierra, who are also heavily involved in organizing and promoting IHGF Highland Games events, have said how much they enjoyed competing at Antigonsh in past Highland Games championships events, and how much they are looking forward to returning to Antigonish for next year's IHGF World Team Championships.