International Highland Games Federation Expands
The International Highland Games Federation (IHGF) has signed up new member countries for 2011, signaling growth in the new year.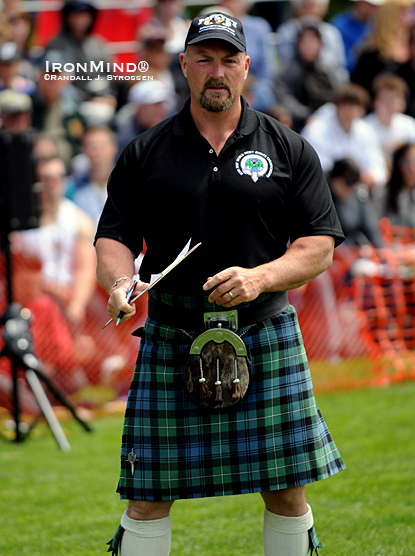 IHGF vice president Francis Brebner on task and on the field at the 2010 International Highland Games Federation World Championships (Victoria, British Columbia, Canada). IronMind® | Randall J. Strossen


IHGF vice president Francis Brebner told IronMind, "The IHGF announces new growth for the Federation as it moves into 2011. With the recent countries joining the Federation—such as Australia, New Zealand, Iceland and Hungary—this indeed will be a great boost for Highland Games overall, promoting new blood into the sport with an outlook of establishing new championship events for the very near future.

"With more than a dozen countries now affiliated with the IHGF, the sport is rapidly growing and looking very good for the future.
The IHGF has just recently received several applications from other countries wishing to join the Federation which it is currently in the process of reviewing for affiliation."
Brebner told IronMind that "some major news of IHGF events planned for the 2011 Highland Games season will be released shortly," so stay tuned for more updates.

###


Want to comment on this article or just want to talk strength? Join the IronMind Forum!

You can also follow IronMind on Twitter.