In a new event for this year's strongman contest at the Arnold, a replica of the Thomas Inch dumbbell will be pressed for reps.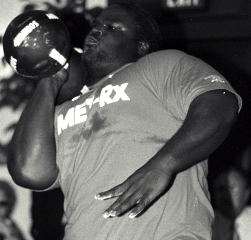 At the 2002 AOBS dinner, Mark Henry became the first man in the world to clean and press a replica of the Thomas Inch dumbbell. At this year's Arnold, one of these dumbbells will be pressed for reps. IronMind® | Randall J. Strossen, Ph.D. photo (Saddle Brook, New Jersey).
Terry Todd, Ph.D. announced that a rule change has just been made for his event, and now each athlete will simply go for the maximum number of reps from the shoulder - either hand may be used and there is a 90-second time limit.

Also in the news, MHP has become the title sponsor of the 2005 Arnold strongman contest, a move that was welcomed by NAS President/ASA Vice President Dione Wessels, who said she was "happy that they are willing to show their faith in Strongman with all their support."

For full contest and ticket information please see the Arnold's website.