"In 2008 . . . A Major Drug-Tested Strongman Contest"
2006 World's Strongest Man winner and two-time MILO cover guy Phil Pfister told IronMind today that he is planning a major strongman contest for July 2008 in Charleston, West Virginia and that it will be drug-tested.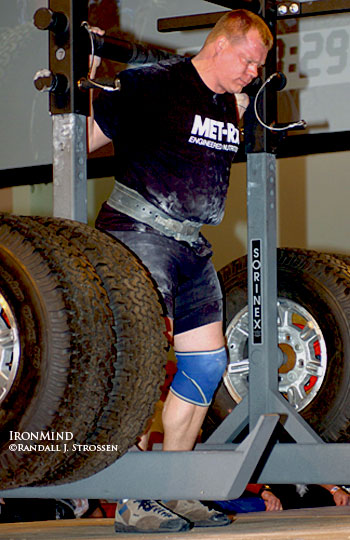 Phil Pfister takes a walk on the heavy side at the 2006 Arnold Strongman contest. Pfister, who won the 2006 World's Strongest Man contest, is planning a major drug-tested strongman contest in 2008. Randall J. Strossen, Ph.D. photo.

Pfister, a longtime advocate of drug testing in strongman, has recently moved from the Charleston Fire Department to a corporate development position with Chesapeake Energy, the largest independent producer and third-largest overall producer of natural gas in the United States and a company with "major philanthropic interests," Pfister said. Thus, Chesapeake Energy has been instrumental in supporting Pfister's bid for bringing drug testing to strongman, as a way to broadcast the message that you can be a clean athlete and a competitive strongman at the same time. "Major sponsors insist on drug testing," Pfister said.

Although this is not an official announcement, Pfister told IronMind that he wants to get the word out now, even if he cannot release specific details yet, because he wants interested athletes to know what he is planning so that "they can take whatever steps are necessary to ensure their eligibility. I want to give everyone as much opportunity as possible to get clean," Pfister said.

Described as a contest with a "very significant amount of money" in prizes and "a guaranteed TV contract," Pfister said that it will have an open format that will allow all US athletes to enter the qualifying round, and the winner of this contest could well be destined to receive an invitation to a another major strongman contest in 2008.

Stay tuned for more details.