Almaty—How hot was the 105-kg class at the World Weightlifting Championships? Four world records, David Bedzhanyan (Russia) got the silver medal in the jerk and Ilya Ilyin (Kazakhstan) beat Ruslan Nurudinov (Uzbekistan) on bodyweight.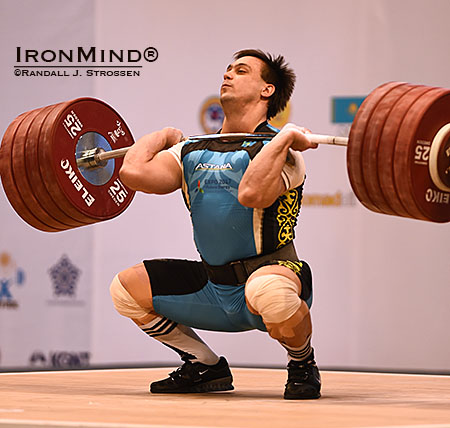 Ilya Ilyin attacked 242 kg in the clean and jerk with his characteristic ferocity—it was a good lift and gave him the gold medal in the clean and jerk as well as the total. IronMind® | Randall J. Strossen photo


There was a superabundance of talent on the lifting platform tonight in Almaty: Simon Martirosyan (Armenia) put the first big stamp on the evening with a Youth world record in the snatch with his 183-kg third attempt success, and Nuridinov showed he had big plans for the evening when he snatched 193 kg for the gold medal.

But wait, this was just a warmup for the clean and jerk, where the weight on the bar hit the Men's world record level with four attempts left.

Nuridinov got things rolling with a good lift at 239 kg, Bedzhanyan, who was the world record holder coming into tonight, answered with a 240-kg success, and then hometown hero Ilyin—who had missed the jerk on 239 kg—tore into 242 kg, to edge Nurudinov on bodyweight and send the packed house into a frenzy.

###



Visit the IronMind Forum: talk strength, discuss this story. Strongman, grip, Highland Games, Olympic lifting, stones and more.

You can also follow IronMind on Twitter and on Facebook.