Ilya Ilin Returns with a Bang: Wins the 94s
Paris—After maintaining quite a low profile since his victory at the 2008 Olympics, Ilya Ilin (Kazakhstan) returned to center stage tonight as he won the 94-kg class with confidence bordering on swagger at the World Weightlifting Championships.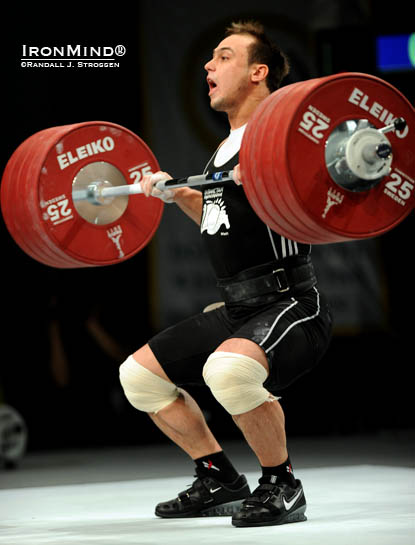 Kazakhstan's Ilya Ilin is ramping up for the London Olympics as shown by the way he hammered this 226-kg second attempt clean and jerk at the World Weightlifting Championships tonight. IronMind® | Randall J. Strossen photo.


It was expected to be a battle between the two Ivanovs—Alexandr from Russia and Artem from the Ukraine—and Ilya Ilin, and that's largely how the script played out tonight.

Alexandr Ivanov won the snatch with 186 kg, the best of his string of three successes, as he edged Artem Ivanov on body weight. Kim Min-Jae (Korea) showed that he plans to be a player, too, as he made 177 kg and 182 kg before missing 187—his second attempt netting him the bronze medal in the snatch.

Ilyin, who had a third-attempt snatch (184 kg) turned down, much to the displeasure of the crowd and in a call that raised some eyebrows elsewhere in the competition hall as well, came into the clean and jerk four kilos behind the leader, plus he was heavier, but no matter: he knocked 221 and then 226 kg out of the park, and then sat back waiting to see whether he would need to take a third clean and jerk.

Ilin didn't need to, as he'd beaten Artem Ivanov on body weight, and he'd more than made his point: he'd bested the two Ivanovs, the Iranian junior Saeid Mohammadpour (bronze in the jerk and total) and Ruslan Nurudinov (Russia), not to mention the rest of the field.

Guess who's back in town?

###



Visit the IronMind Forum: talk strength, discuss this story. Strongman, grip, Highland Games, Olympic lifting, stones and more.

You can also follow IronMind on Twitter.