Ilya Ilin Lights Up the 85-kg Category
Busan, Korea - In the snatch, was the big news that there were two Chinese lifters in the 85-kg class and neither medaled, or was it that the one Libyan lifter (Mohamed Eshtiwi) did, or maybe it was that the gold medal was won on the last snatch in the contest, when Vadzim Straltsuov (Belarus) ripped up 168 kg to beat Ilya Ilin (Kazakhstan), who had just made a tremendous lift with the same weight one attempt earlier?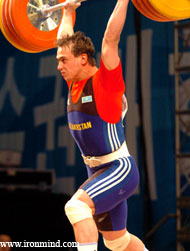 Ilya Ilin (Kazahstan) already had a great contest, but for the final attempt of the 85-kg class, he called for 206 kg, which he nailed for new junior world records in the clean and jerk, and in the total. IronMind® | Randall J. Strossen, Ph.D. photo.
Take your choice because there was a lot going on in this class, but when the dust settled, Ilya Ilin had made a name for himself at these Junior World Weightlifting Championships.

Ilin had opened with a very solid 197-kg clean and jerk, which he lifted like he was a high-speed freight elevator, but even that didn't fully tip his hand. By his second attempt, the message was getting out, though, because after a pile of missed jerks at 200 and 201 kg, Ilin came out and blew up 202 like nobody's business.

Roman Khamatchine (Russia) made a very gutsy lift with the same weight, in bid for the gold medal in the jerk, since he was lighter than Ilin, and the bronze in the total. Khamatchine had a tough time standing up with the weight, but once up, he made a good jerk. Straltsuov had put a 195-kg clean and jerk on top of his gold medal snatch, for the silver medal in the total.

This would not have been a half-bad way to end this class, but there was more to come because Ilin, the youngest guy in the category, called for 206 - for an assault on the junior world records in the clean and jerk and in the total, and he destroyed the weight.

Remember this guy's name: Ilya Ilin has Beijing written all over him.