Ilya Ilin: Gold in Beijing
MILO cover guy Ilya Ilin (Kazakhstan) has a one-track mind at the moment - everything is focused on the 2008 Olympics, where the star weightlifter is considered a gold medal favorite in the red hot 94-kg category.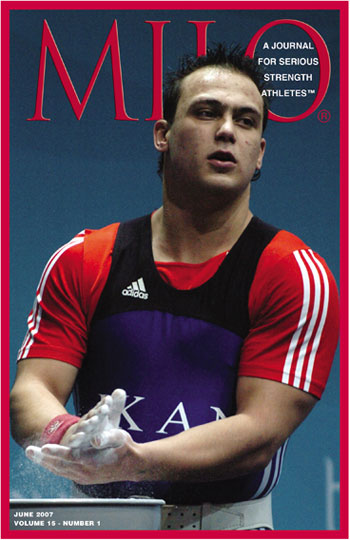 "Ilya Ilin (Kazakhstan) chalks up and eyes the bar loaded to 226 kg for his third attempt in the clean and jerk at the 2006 Asian Games (Doha, Qatar)." IronMind® | Randall J. Strossen, Ph.D. photo. Reprinted with permission.
Head coach Alexi Ni told IronMind® today that his prodigy his thriving, as they continue to focus on one goal: the Beijing Olympics.

Somewhat worn out by his competition schedule in 2005 and 2006, Ilya Ilin was given time off to recover, Ni said. Ni explained that he gave Ilya Ilin this January completely off, to do "nothing," as part of his recovery program, and then a period of general physical preparation followed, including things as diverse as swimming, and as sport specific as working on technique and doing the lifts, although only with light weights. Overall, Ni explained, this is something of a six-month break for Ilya Ilin, and it is an integral part of their Olympicn preparation strategy.

In terms of pre-Olympic competition, Ilya Ilin will be starting at the 2007 World Weightlifting Championships, Ni said, but even if he doesn't win there (again), that's ok because the overall goal - far more important than anything else - is to win gold in Beijing.