Ilkka Kinnunen on IceMan III: "There is No Weather Clause"
Watch for Zydrunas Savickas, Terry Hollands, Laurence Shahlaei, Ervin Katona and Christian Savoie as these steeled strongmen head to the Arctic Circle in March to compete in the IceMan III, an SCL competition that has fired up the strength world ever since its debut in 2010.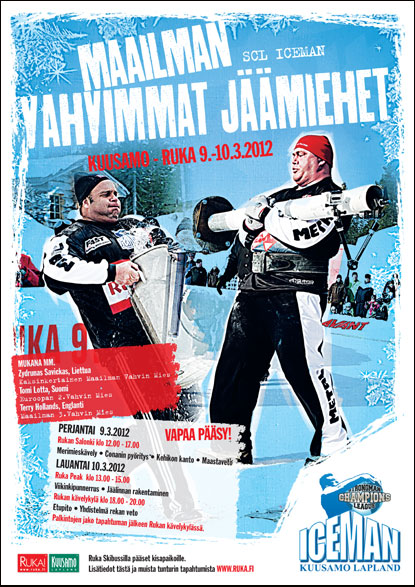 Head North, strongman. Strongman is about making an impact—visual and visceral—so when your playground is the Arctic Circle, you have established the right vibe even before the first kilo leaves the ground. IronMind® | Courtesy of SCL.


"The third arctic strongman competition challenges 12 of the strongest men in the world to battle for the title of IceMan," the Strongman Champions League (SCL) announced today. "The competition will be brutal in the exotic and [challenging] environment. There is no weather clause or frost limit."

Need we add, Only the strongest shall survive. Come to Lapland, Finland and find out.

Events
• Yoke Race
• Conan Circle
• Log Frame Carry
• Viking Press
• Ice Castle
• Medley
• Truck Pull (harness and rope)

Competitors
Zydrunas Savickas (Lithuania)
Laurence Shahlaei (Iran)
Terry Hollands (England)
Jarno Hams (Holland)
Jimmy Laureys (Belgium)
Tomi Lotta (Finland)
Juha-Matti Jarvi (Finland)
Ervin Katona (Serbia)
Christian Savoie (Canada)
Janusz Kaluga (Poland)
Winner of the Finnish Strong Cup
One competitor chosen from the SCL finals

The SCL IceMan III is March 9–10. Please visit http://www.ruka.fi/ for more details and watch IronMind News for updates.


###

The IronMind Forum: discuss this article, talk strength, get help with your training.

You can also follow IronMind on Twitter.