Igor Kupinsky Breaks CoC Silver Bullet World Record
Add Igor Kupinsky's name to the distinguished list of men who have held the CoC Silver Bullet world record: Mark Felix, Juha Harju, Alexey Tyukalov and Mike Burke.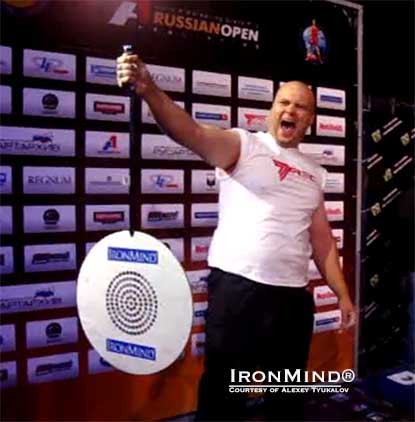 Igor Kupinsky clamped down on the Captains of Crush No. 3 gripper and held the CoC Silver Bullet in place for a whopping 54 seconds, a quick blink longer than old the world record. IronMind® | Courtesy of Alexey Tyukalov.


The CoC Silver Bullet allows you to pit your strength against a Captains of Crush No. 3 gripper, and whether you think your hand is too small, too large or just the right size, the CoC Silver Bullet provides a level playing field for all—and because it quickly sorts out who's got the strongest hand(s) in fun, highly-visual event, it's become a favorite among both competitors and spectators.

The world record opened with a couple of top performances in the low-to-mid 40-second range, and then it popped up to the low-to-mid 50-second range, so we are edging closer to fulfilling David Horne's early prediction that someone would hit the magic minute.

Meanwhile, congratulations to Igor Kupinsky—the 2012 Armlifting world champion now owns the CoC Silver Bullet world record.

#

Want to talk strength? Join the IronMind Forum.

You can also follow IronMind on Twitter and on Facebook.