Iceland's Strongest Viking
The west coast of Iceland will be the setting for Iceland's Strongest Viking this weekend, the organizing committee told IronMind® today.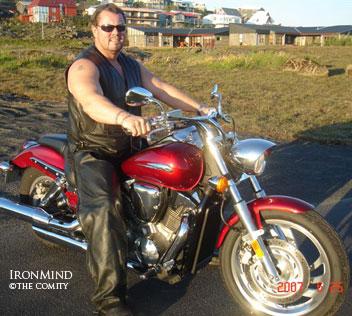 The Honda VT1300 might be billed as "the cruiser for cruising off into the sunset," but don't count on four-time World's Strongest Man winner Magnus Ver Magnusson doing that on his bike just yet - he might be lacing up this weekend. IronMind® | Photo courtesy of The Comity.

The organizers set the stage for this weekend's contest with words that would make the local tourist bureau proud, saying, "Surrounded with mountains and amazing nature, the modern Vikings of Iceland will do battle about who is the strongest . . . ," and the competitors include "Benedikt Magnusson, Georg Ogmundsson, Jon Valgeir Williams, Petur Bruno, Sigfus Fossdal and possibly Magnus Ver Magnusson."

"I'm thinking about it," Magnus Ver told IronMind®, when asked whether he was really going to compete this weekend. "I am one of the organizers, but the boys have kind of been pressuring me to take part. I tested my powers last weekend and they were still there, so I might jump in."

Magnus explained that he had originally been thinking about competing in the East Coast Giant competition, as he had last year, but now, he might join the action a couple of months earlier than scheduled.

Incidentally, this will be the 15th edition of the Iceland's Strongest Viking contest and guess who has won about 11 of them? With more victories than he can remember exactly, Magnus Ver will be on familiar territory this weekend and while he told IronMind that he would not be entering with the expectation of winning, he added, "but you never know. . . ."

The events are: Hercules hold, silver coin deadlift, loading in water, tire flip, overhead stones, stone loading, tractor pull, throw for height and farmer's walk.